I play Philip Markham. I hope you'll come and see it. The show will be running at the Pumphouse Theatre in Calgary.
Tickets available from Morpheus Theatre direct. Three weeks to go!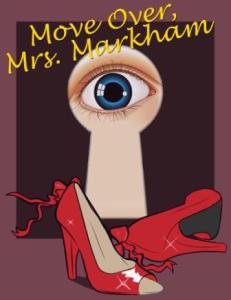 MOVE OVER, MRS. MARKHAM
3 – 11 October 2014
By Ray Cooney and John Chapman
Directed by Jay Newman

When Philip Markham, loving husband and children's book publisher, agrees to allow his business partner to borrow his flat to romance his latest girlfriend – well, that's when everything goes topsy turvy as only a classic bedroom farce can and Morpheus Theatre's 20th season has officially begun.

All Philip really wants to do is take his wife out for the evening and the conundrums ensue as a parade of lovers begins to arrive to what they believe is an empty apartment, perfectly suited for their planned revelries.

Cancelled plans, couples not expecting anyone else to be home and the unexpected arrival of a popular children's book author promise to delight, and don't worry, once you have your ticket booked that seat is yours, no one else will ask to borrow it.