As of last Saturday, I'm now on the conference circuit as a speaker. It feels really weird to say that, because it was thrilling and terrifying at the same time.
This was the room I spoke to (photos taken during setup, which is why it's empty).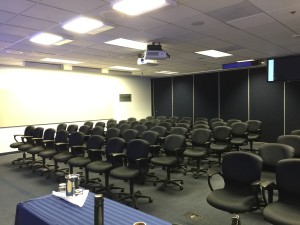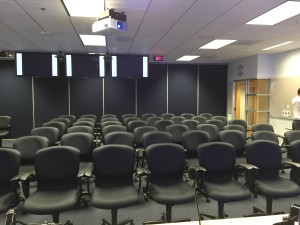 This all started because Argenis Fernandez (twitter | blog) convinced me in April to attend SQLSaturday #407 in Vancouver. I even tweeted about it.
https://twitter.com/rabryst/statuses/593919388337639424
Shortly thereafter, he convinced me to submit a session. That's when things went downhill — I submitted on the day before submissions closed — and was accepted.
My talk was on solving a problem I recently ran into, with Azure Blob Storage and infinite lease. This slowly morphed into writing a command-line tool in C# to synchronize SQL Server backups to, and restore from, Azure Blob Storage.
(If you're at all interested in this topic, you can find out more about the tool at the GitHub link here: https://github.com/bornsql/azureblobstoragesync. Be sure to check out the wiki there as well, which explains how to use it.)
So now I've been bitten by the bug. I'm thinking about posting how I prepared for the talk, but on my SQL Server blog.
Update: The post has been written. You can read how I prepared for my first ever SQLSaturday session.