Gritty is the recently unveiled mascot for the Philadelphia Flyers, an ice hockey team in the National Hockey League. Researching that sentence just now, I learned more about Gritty than I knew before.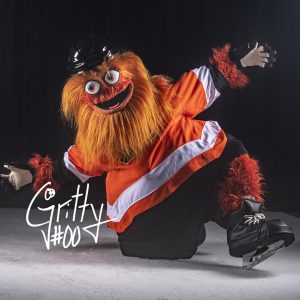 Despite not being au fait with Gritty's origin story, I've been enamoured with his image and without realising it, I have contributed to the meme-ification (if that's even a word) of the mascot on Twitter.
I don't know why, but I think it's because I am a huge fan of googly eyes, and Gritty embodies their hilarity while being a giant orange hairball with a backstory. As I said on Twitter:
Like the dress from Moncler 1 Pierpaolo Piccioli, I'm enamoured with this Gritty creature. I still don't know who or what it is for, but it is the best orange creature with funny hair to come out of the US.
In order to preserve this tiny piece of magic, here are some things that I and my Twitter friends have come up with when talking about Gritty.
Gritty, the Musical
Gritty, the Biopic
2 Gritty, the Sequel
2 Gritty 2 Furious
Gritty 3: My God, It's Full of Stars
Gritty 3000
Ménage a Gritty
Gritty 4: A New Hope*
Gritty 4: Salvation
Gritty 5: The Awakening
Gritty Rises
Zamboni Dust, the Rise and Fall of Gritty
Gritty 7: Generations
** Wes said: "Now I'm envisioning him talking like a wookiee." (Thanks for the title of this post, Wes!)
Ken suggested:
Gritty Potter and the Sorcerer's Stone
You've Got Gritty
Gritty-less in Seattle
Pete suggested:
Star Wars The Last Gritty
Lonny suggested:
New Jack Gritty
Bright Lights, Big Gritty
Jay suggested:
Brandon suggested:
If you liked this post, check out my review of silly hats, featuring two Popes.
Featured image is copyright Philadelphia Flyers.